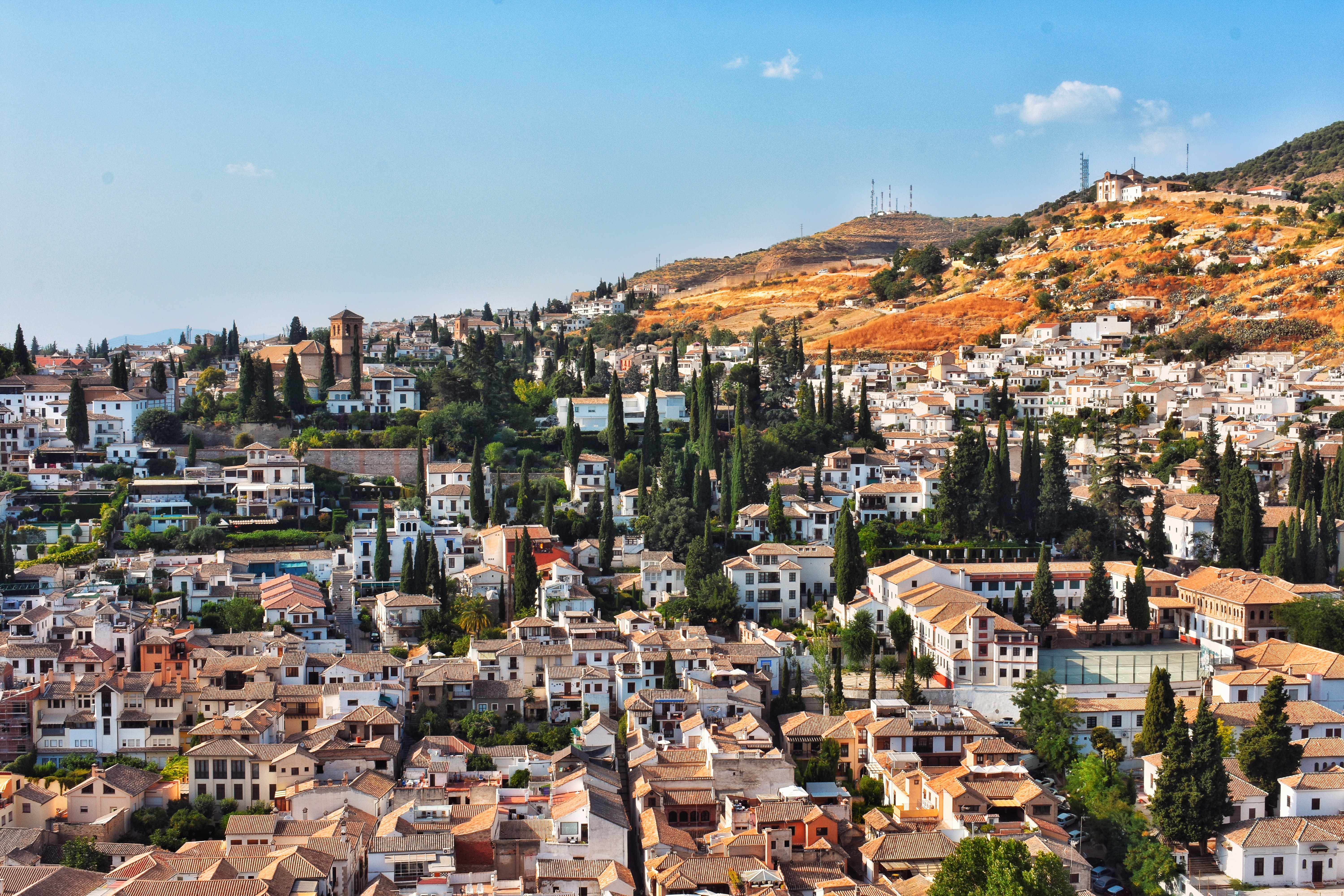 USEFULL INFORMATION
LOCAL TIME
The same time applies in Spain and in the Balearic Islands. The local time corresponds to Greenwich Mean Time, (GMT). Just add 1 hour in winter and two hours in summer.
MUSEUMS AND MONUMENTS
Opening times to visit the historical monuments in Granada vary. Some, like the Alhambra, are open all day to the public, and others, such as the Cathedral or the Royal Chapel, close at midday. Many churches are only open during worshipping hours.
SHOPS
Shops are open from Mondays – Fridays from 10am – 2pm and 5pm – 8pm. On Saturdays they are open from 10am – 2pm. Department stores and some shops do not close at midday or on Saturday afternoons.
RESTAURANTS
Breakfast is served between 8am and 10am.
The midday meal is usually served in restaurants between 1pm – 3.30pm, and the evening meal (la cena) is served from 8.30pm – 11pm.
Pubs, bars and discothèques usually stay open until 3am or 4am.
PUBLIC TRANSPORT
The city buses in Granada start running at around 7am and stop at around 11.30pm.
BANKS
Opening hours are usually Mondays – Fridays from 8.30am – 2pm. They sometimes open on Saturdays from 8.30am – 1pm in the winter months, but not in the summer.
PUBLIC INSTITUTIONS
The Public Administration offices are open on Mondays – Fridays from 8am -3pm.
TOURIST INFORMATION OFFICE OF THE PATRONATO PROVINCIAL
Mondays – Fridays: 9am – 8pm
Saturdays: 10am – 7pm
Sundays & public holidays: 10am – 3pm
TRAFFIC
Driving through the streets of Granada is not easy. Granada is a historical city with narrow streets, and has a huge amount of traffic as it has about 500 000 inhabitants.
Many of the streets in the historical city centre, the Albaicín, Sacromonte, and Realejo districts have restricted access, and only allow pedestrians or public transport to pass.
If you do not know the city well, the best thing to do is to leave your car in one of the many public car parks in the outskirts of Granada and use the bus, the tourist bus or taxis. As everything in Granada is within walking distance, a great option is to enjoy the city on foot.
You can find more information about traffic restrictions, public car parks, and transport in the section Getting here and move around.
ELECTRICITY AND PLUGS
In Spain, electric appliances work at 220 volts, CA.50 HZ, whereas in the US and Canada they need 110 volts and 60 HZ. The wall-sockets use the European system of round pin plugs. Therefore, if you wish to bring your electric shaver, hairdryer or another electric appliance from a country that uses a different voltage system or plug arrangement, you will need a transformer and a plug adapter. Most large hotels provide them, and you can also buy them in specialist shops and large department stores in Granada.
CLIMATE
The long summers and winters contrast with the short autumn and spring seasons. There is little rain (474 litres per year), which mainly falls between October and May.
The province of Granada offers enormous contrasts in climate, owing to its startlingly different geographical features. It has two special microclimates:
Costa Tropical: has an average temperature of 18.5º C and 3000 hours of sunlight per year.
Sierra Nevada: temperatures can range from 35ºC in the hot days of summer, to below freezing in winter.
 Granada Capital City: Granada's summer is quite hot and average temperatures July is  the hottest time of the year and heat waves are quite common. Maximum temperatures can reach 40 degrees Celsius. July is the hottest month of the year.
PERSONAL SAFETY
Granada is a safe region, but just as in any other place, you must guard against pickpocketing. The police make the following list of general recommendations for tourists.
In the place where you are staying:
- Do not leave money or objects of value in sight, instead use a safety deposit box.
- When in public areas, watch your luggage and personal belongings.
In public places:
- Do not lose sight of your belongings.
- Keep your wallet or purse safe in crowded areas.
- Only take what is strictly necessary when going to the beach or swimming pool.
- Keep your camera or video camera safe at all times.
- Avoid street gambling games as they are rigged.
·Do not trust any suspicious offers or requests for help (someone tells you that you have a stain on your clothes, or they have a broken-down vehicle, etc.).
- Avoid all too easy business deals. They are most probably a swindle.
- If you are using a car, do not leave any objects of value in sight.
WATER
Tape Water is drinkable throughout in Granada. We have stringent control systems that guarantee water quality. Nevertheless, consumption of bottled water is widespread.
EMERGENCY TELEPHONES NUMBERS
Policía Nacional: 091
 Guardia Civil: 062
 Local Police: 092
General emergencies: 112
TELEPHONE
TO MAKE A CALL TO GRANADA: In order to ring Granada from another country, you have to dial the international code of the country you are ringing from, then 34 for Spain, and then the number of the person you want to speak to. In Spain, all the telephone numbers of both landline and mobile phones have 9 digits.
TO MAKE A CALL FROM GRANADA: If you want to ring another country from Granada, first you have to dial 00, followed by the country code and the number of the person you want to ring. The public phone booths, belonging to the Movistar phone company, take both coins and prepaid telephone cards that you can buy from the tobacconist shops.
TIPPING
It is customary, although not obligatory, to leave a tip in bars, restaurants, taxis and hotels.
CURRENCY
The unit of currency used in Granada and the rest of Spain is the euro. One euro is divided into 100 cents. There are eight different coins of 1, 2, 5, 10, 20 and 50 cents, and 1 and 2-euro coins. There are seven note denominations, worth 5, 10, 20, 50, 100, 200, and 500 euros.
OFFICIAL LANGUAGE
Spanish
 Fonts: https://www.turgranada.es/